Breathtaking Architecture All Around Town
One of Charleston's most intriguing aspects is its rich, bountiful history. Founded in 1670, this port city predates the Declaration of Independence by over a century, and its distinctive architectural styles showcase the bygone eras of the last four hundred years. Here are a few of the most popular architectural styles you'll find in Charleston and how to spot them.
1. Georgian & American Colonial
Named for the four British monarchs from the House of Hanover bearing this name, Georgian style reigned supreme between 1714 and 1830. In Charleston, this style was widely popularized near the turn of the 19th-century and can be recognized by its elite embellishments. Granite pillars, limestone ornamentation, and decorative cornices are frequently associated with Georgian architecture. This style draws inspiration from Greek and Rome's classical architecture, as it was reimagined during the Renaissance period. It emphasizes balance and mathematical proportions to portray perfect cohesion.

​​​​​​​In Charleston, you can view genuine Georgian materials at . This 18th-century plantation built in 1747 reflects a Palladian flair, and it has never been remodeled, so everything you see is authentic from its original construction. This piece of Lowcountry history has been preserved to highlight its immaculate architecture, which includes two-story porches and a precise use of symmetry. By purposefully leaving Drayton Hall untouched, this 18th-century artifact allows for the study of its architectural elements: the building materials, paint colors, and decor.

When Charleston was established, the United States was merely thirteen British colonies, and much of the city's earliest architecture was influenced by this colonization and inspired by styles familiar in Britain. Although there were several different phases of colonial architecture in America that depended on the geographical area and the settlers involved, Georgian architecture is the most prevalent colonial architectural style in Charleston. This style was used predominantly until the Revolutionary War and enormously impacted Charleston's architectural landscape.
2. Gothic Revival
Pulling inspiration from the medieval time period, Gothic Revival architecture makes a bold statement and can be readily found throughout Charleston. In addition to its ornate parapets and elongated towers, one of the most notable traits of this style is an abundance of pointed arched windows. Inside, you'll notice rib vaults, which were a common decorative and structural element used frequently in cathedrals. Flying buttresses can be seen more sporadically throughout Charleston, but these linear arches designed to convey rainwater from gargoyles are features of Gothic Revival architecture.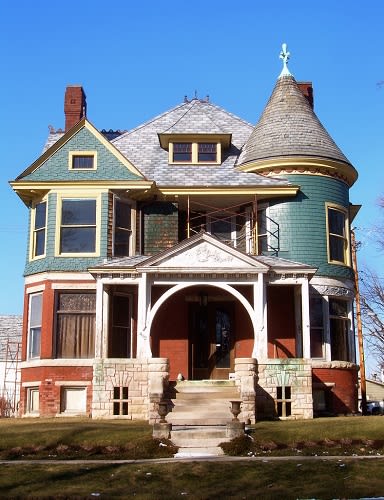 When walking around town, keep an eye out for Gothic Revival masterpieces around each corner. Old City Jail on Magazine Street is an excellent example of this architectural trend. And while the jail is a frequent stop for ghost-hunting tourists and local history buffs due to its robust list of infamous inmates, add this site to your must-see list for its stunning and meticulously preserved architecture. Another exquisite example of Gothic Revival architecture is the on Church Street. This church was built in 1844, but the site has been a French Huguenot church since 1687. With its peaked windows and starkly contrasting black ornation along sweeping towers, you won't be able to miss this iconic architectural feat.
3. Federal
During the 19th century, Regency architecture came to prominence when George IV was acting as prince regent. This British-focused style coincided with America's Federal architecture style. This classically inspired architecture was in vogue between 1785 and 1815, the Federalist Era of American history when the Federalist Party was in power. Because of President John Adams' association with the Federalist Party, this style is often referred to under another nomenclature: Adamesque. No matter what you call it, this style of architecture is a demure, reserved style that adds sophistication to many Charleston streets.

​​​​​​​This style of architecture is defined by American neoclassicism that swept through the nation in the late 18th century. Bald eagle motifs appear throughout this architecture, a celebration of the national bird, and buildings crafted in this style almost exclusively utilize flat front facades without the inclusion of pallisters or columns. At the , you can enjoy pristinely conserved Federal architecture at 51 Meeting Street. Built in 1808, this historic home and National Historic Landmark is revered as an amazing example of Federal style in Charleston.
4. Italianate Victorian
In the latter portion of the 19th-century, Victorian architecture was all the rage in America, and one prominent subgenre of this trend was Italianate Victorian architecture. With their wide-hipped, low-pitched roofs and square cupolas, Italianate buildings are easy to spot throughout town. Stucco walls are typical of this style, but it's also not unusual to see Italianate motifs incorporated into masonry and stonework. Search for pedimented windows, ornate cupolas and cornices, and extended eaves, and you'll be sure to find Italianate architecture throughout Charleston.
5. Art Deco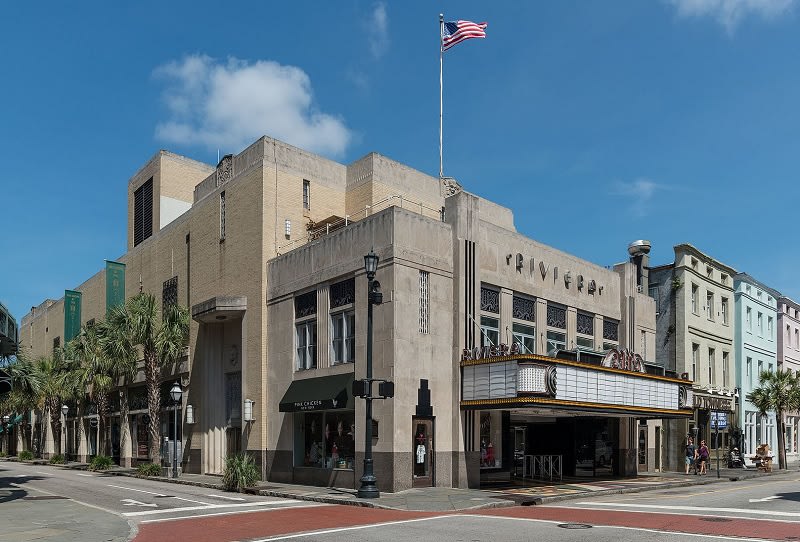 Art Deco architecture of the 1920s celebrates grandeur, and one of Charleston's most extravagant examples of this is . Born from America's reaction to Europe's elaborate and opulent Art Nouveau style, Art Deco architecture relies on geometric designs and modern sensibilities to create stunning architecture unlike anything else in the city. Due to advancements in building materials, Art Deco buildings were frequently constructed with reinforced concrete, and structures often sported an abundance of windows after the invention of plate glass, a stronger variation of glass. Art Deco style was also heavily influenced by the Cubism movement, which was highly regarded throughout France in the early 1910s. To identify an Art Deco construction, watch for repeated geometric motifs, a focus on high-quality materials, and stainless steel.

​​​​​​​Although the building is not currently operated as a cinema, the Riviera Theater is still in use as a conference center and events location. The Riviera Theater was restored through the efforts of conservationists with a $4 million budget. Because of this, the theater has been able to maintain 90% of its original, century-old 1920s interior.
6. Classical Revival
Classical Revival and Greek Revival architectural styles both take inspiration from the simplistic architectural forms of the Roman and Greek civilizations. The Classical Revival style rose to fame during the late eighteenth and early nineteenth centuries in America and Europe. By rearticulating the austere architecture of ancient temples, this Hellenistic style is sometimes called Neo-Grec for its affinity for Greek traditions.

​​​​​​​One of Charleston's most noteworthy examples of this style is Hibernian Hall on Meeting Street. Established in the 1840s, this building houses Charleston's Hibernian Society, which was organized to support Irish immigrants in America. The picturesque building on this corner lot is a breathtaking rendition of Greek Revival architecture and can be identified by its facade of six Ionic columns. Another trademark of this style is the intricate cornice and pediment, including a small arched window.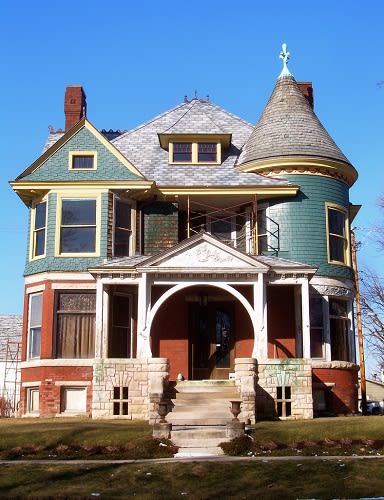 7. Queen Anne
Another rendition of Victorian architecture, Queen Anne style is known for its delicate ornamentation and widespread asymmetry. Although the most notable examples of Queen Anne architecture in America are likely the of San Francisco, Charleston boasts a wonderful selection of Queen Anne buildings scattered throughout town. Queen Anne buildings are easily recognized by their densely gabled roofs and gingerbread latticework. Queen Anne homes frequently wear multiple colors to showcase their intricate craftsmanship, and these bold paint colors make them stand out from the crowd. With an emphasis on fine, detailed accents, these immaculate homesteads are both eccentric and exquisite.
8. Charleston Single House & Charleston Double House
Specific to Charleston, these homegrown architectural styles blend key components from several different styles to produce beautiful and functional homesteads. Charleston Single House was created when the Lowcountry's geography required thoughtful innovation, and this slim, streamlined style is one room wide to accommodate the lack of physical building space in the peninsula. Similarly, Charleston Double House is a more rare articulation of this style with four total rooms, two upstairs and two downstairs. Each iteration often boasts two-story porches as these homes are almost always two stories tall, and the grand piazzas equip the home with adequate airflow.

Charleston's variety of historic architecture lends texture to its visual landscape and invites residents to engage with the city's history. If you would like to learn more about Old Mount Pleasant real estate or homes for sale in Belle Hall, today for more information.