Considering a Move to Charleston? Here Are Plenty of Reasons Why It's the Place for You
Known for its warmth, charm, and vibrant history, Charleston shines as one of America's favorite cities. With a myriad of fun and exciting things to do, gorgeous outdoor spaces to explore, and delightful restaurants to enjoy a meal with the family, you will find yourself falling in love with the elegant Charleston in no time. As you bask in the city's skyline of church steeples and glimmering lights, you will want to discover all this darling place has to offer. Read on to learn all about the top places in Charleston that make your permanent residence feel like a vacation destination all the time.
1. Gibbes Museum of Art
Opened in 1905,
Gibbes Museum
offers a vibrant collection of paintings and portraits for all to enjoy. These art pieces remember and reflect on the diverse history and stories of our country. As you step through the art galleries, you will be enthralled and amazed by the thought-provoking beauty and mesmerizing detail of the artists' work, and you'll discover that each piece provides a glimpse into the past and a unique perspective of what life was like back then.
With 6 to 8 new exhibitions every year, Gibbes always has something new to experience and enjoy. The museum is open on weekdays from 10 AM to 5 PM and on Sundays from 1 PM to 5 PM. Visitors are welcome to enjoy the first floor of the museum for free and can buy tickets to continue onto the second and third floors. Buy your ticket online, and enjoy this gorgeous museum with your loved ones.
2. Nathaniel-Russel House Museum
Looking to experience some of the colorful, rich histories Charleston has to offer? Wanting to give the kids an education tour and teach them something about history? The
Nathaniel Russel House
provides an enlightening journey through the Colonial period, and a peek into the life of the man who called this lavish place home. If you are a history buff or want to learn more about Charleston, make sure you take a tour of this great house museum!
3. The Ocean Course
Calling all golf lovers!
The Ocean Course
at Kiawah Island is a must-do experience for those who wish to take their game to the next level and sharpen their competitive skills. Located on the eastern end of this gorgeous island, the course offers a true challenge for golfers of even the greatest skill. What makes this course such an exciting and daring venture is that it's open to strong winds from all directions, so it provides a fun challenge for all who come. Also, while you are here, you may want to stay at the luxurious resort, enjoy fine dining, and take in the breathtaking views of outdoor scenery. Gather your friends, and make your reservations today for the perfect golf vacation!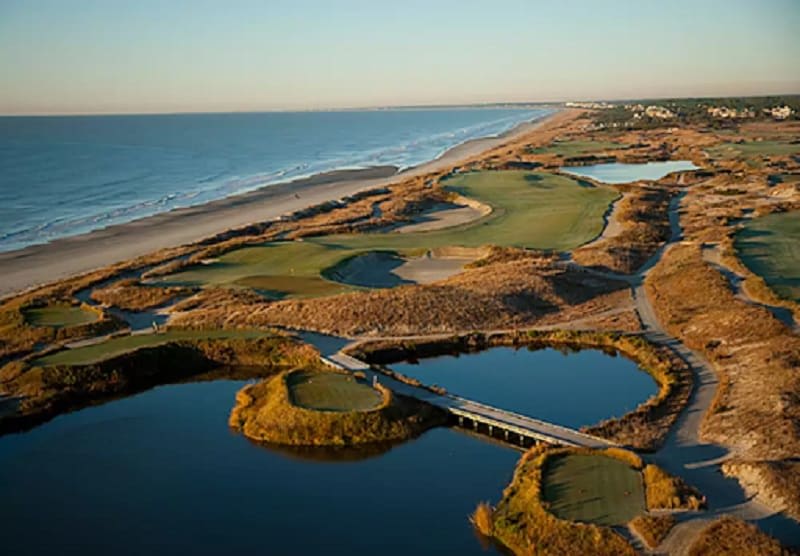 Credit: CharlestonCVB
4. The Candlefish
Have you ever wanted to make a candle yourself? Have you dreamed of picking out a fragrance that was unique to you and only you? Come into the charming
Candlefish
shop to discover the candle just right for you. You can shop from the Candlefish library and check out the assortment of beautiful, elegant candles on display there. With scents such as Nutmeg, Frankincense, Cardamon, and more, you can be confident that you'll discover one that ignites your imagination.
If you are feeling extra adventurous, you can design and order your own candle online by choosing options such as a subtle or dramatic scent, level of uniqueness, etc. There are even custom wedding candles for your special day or to give away as gifts to loved ones and friends available to purchase. If you are feeling in a creative and innovative mood or want to learn more about the process, you can take candle-making classes to learn this amazing skill for yourself. Whatever you are searching for, know that Candlefish has the perfect scent to fragrance your home and delight your senses.
5. The Ordinary
Located in an old bank,
The Ordinary Restaurant
offers the complete oyster experience for all lovers of seafood. With its polished, historical aesthetic and mouth-watering food, the Ordinary provides an extraordinary experience while giving a nod to its vibrant and diverse past. On the menu, you can find plenty of options to choose from, such as the delicious Smoked SC Oysters, Crispy Oyster Slider, Carolina Gold Rice Pudding, and more. With an exciting and varied array of drinks, this restaurant serves as the perfect stop for weary travelers looking for refreshments or a fun friends' night out on the town. It will be an experience you won't soon forget.
6. Middleton Place
One of the absolute must-see places in Charleston is
Middleton Place
, which carries the notoriety of being the oldest landscaped garden in the United States. Originally dreamed up and planted in 1741, the Middleton Place gardens carry the nostalgic beauty of England and Europe at that time. Throughout the years, generations of the Middleton clan contributed to the botanical venture and kept its legacy and forward-thinking dream alive. With its gorgeous walkways, delicate wall gardens, and colorful array of flowers, it stands as both a testament to the time and a shining monument to humanity's visionary potential.
Also located on-site, the House Museum pays ode to those who resided there and imagines what it was like to live in their shoes. You can also enjoy a delicious meal with the whole family at the classic Middleton Place Restaurant. With its wide windows letting in the sunlight and view of the outdoors, it offers a graceful and unforgettable dining experience. On the menu, you will discover items such as Duck Meatballs, Shrimp and Grits, and the Sustainable Seafood dish. The restaurant is open every day for lunch and dinner. Guests are encouraged to call ahead and make reservations.
Credit: CharlestonCVB
7. South Carolina Aquarium
Are you looking for a fun adventure with the kids while meanwhile wanting to encourage their love for nature and animals? The
South Carolina Aquarium
is the perfect opportunity for doing just this. As you stroll through the brilliant aquatic displays and bask in the wonderful array of exotic sea life, you can use this special time to teach your children about sea life and caring for the environment. Tickets for the aquarium must be purchased online. Make sure to get yours soon as weekends and holidays fill up quickly.
8. Historic Charleston City Market
Originally started in 1804, the creative and legendary
Charleston City Market
promises a day you will always relish. With a plethora of exquisitely designed and thoughtfully made goods like hand-painted magnets and ornaments, beautifully woven baskets, intricately frosted cookies, and much much more, you will find something that catches your eye and captivates your imagination. Whether you plan on going on a shopping spree or window shopping, this market is an amazing place featuring local artists' and craftspeople's work.
As you meander through the vibrant selection, you certainly won't be disappointed. Feeling hungry after your long day of shopping? You can stop at one of the many restaurants in the surrounding area for a delicious and filling bite to eat. With lots of parking and more than plenty to see, you can easily spend the whole day at the Charleston City Market and continually discover more excitement.
9. Joe Riley Waterfront Park
After enjoying your time at the market, make sure to stop at the
Joe Riley Waterfront Park
to take in the views and for some much-needed refreshment. With ornate water fountains, gorgeous scenery, and an abundance of walking trails, this park is an ideal place for family fun and personal enjoyment. Whether you want to have a picnic on the lawn or go for a ride on the swings, you can have a fabulous day here at the park!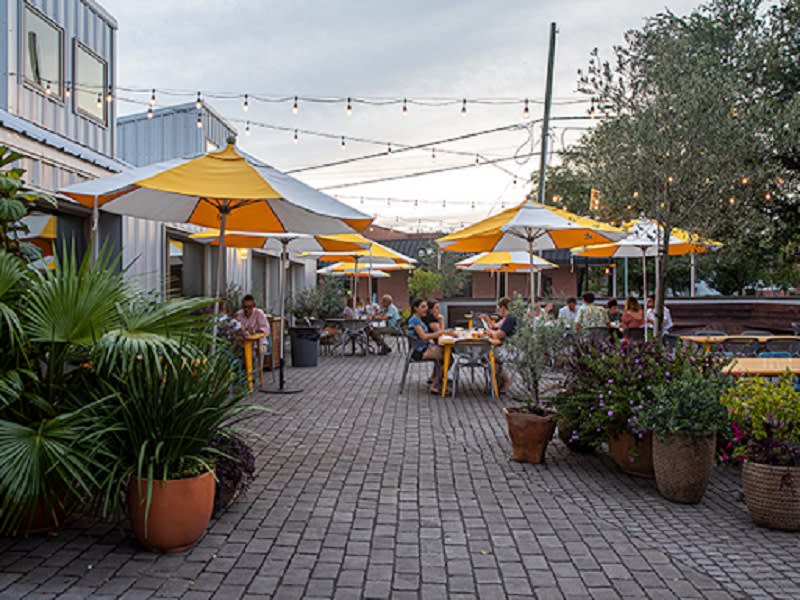 Credit: Butcher & Bee
10. Butcher and the Bee Bakery
How about starting your morning off with fresh bread and pastries from the exquisite
Butcher & Bee
? With a delicious assortment of rolls and buns, the bakery uses the highest quality ingredients and grain from locally sourced mills to ensure its bread is absolutely delicious. What's more, this is the perfect place to go with your special someone and enjoy a tasty brunch and steaming cup of coffee before setting out for an exciting day of exploring the city. Here you can also have a healthy, nutritious meal with the whole family at the Butcher & Bee Restaurant.
With breakfast, lunch, and dinner options such as The Avocado Crispy Salad, Skirt Steak, or the Oatmeal Cream Pie, you can find something to make everyone's heart and stomach happy. With its espresso bar and an exciting variety of drinks, Butcher & Bee is a fun place to celebrate with friends and make new memories. The good time doesn't have to stop there; you can purchase some of the bread and take it home with you. Delivery and pick-up are also available. So what are you waiting for? Hurry in today to satisfy your bread craving and pick up a cup of coffee while you're there!
If you are ready to make the move to Charleston and enjoy a vacation-like experience every day, contact
Katherine Cox
today! Katherine has years of experience as a real estate agent and serves a wide range of neighborhoods. Whether you are looking for Old Village homes for sale or I'on real estate, Katherine is fully equipped to help you find your dream home.